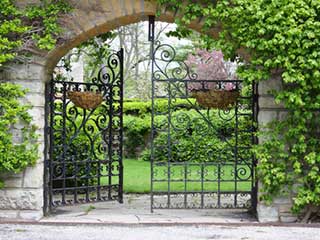 Not many of us give it much thought when it comes to picking a gate for our homes. For most of us, a gate has to serve the primary purpose it was designed and built for- security. We want our gates to be reliable, secure and durable to prevent any break-ins, but at the same time open and close efficiently.
Once we find a gate that fits our security needs, then only do we look at its aesthetic quality. Wood? Steel? Iron Wrought? Mesh? Again, the aesthetic quality of the gate is usually monochromatic, plain and in either gray, black, white or brown. And that's as far as the design will go.
But taking more time to think about the design quality of your gate will not only enhance the exterior of your home, it'll also increase the real estate value of your property.
Need design inspirations? Here are some great ideas:
Get Inspired by the movies

Individual elements from films become design inspirations for us. For example, the moon gate from Frodo's house in Lord of the Rings is an excellent idea for wooden garden gates, or the quirky gates in the Alice Through the Looking Glass movie serves as ornamental design ideas for your classy shabby-chic home. Even the Harry Potter series has major inspiration designs for wrought-iron gates.

Floral Elements

Floral elements have always been an inspiration for many design features. Step up the curb appeal by creating your wrought iron gate with curling vines and sprouting flowers instead of the usual straight bars and spikes you see in these kinds of barriers.

Tree Elements

Not much of a floral fan? Having a tree silhouette carved into a wooden door or even stenciled to wrought iron gates is very artsy and has an androgynous feel to it. It isn't too feminine or masculine and instead projects a feeling of sturdiness and yet willowy.

Up cycled

Did you know that you can up-cycle plenty of old things to use it for new ideas? For example, you can have glass elements from recycled bottles infused to wrought iron gates or make your old bicycle affixed into the design of your gate, especially if this bicycle has sentimental value or have repurposed Singer machine pedals creatively positioned to become part of the larger gate.