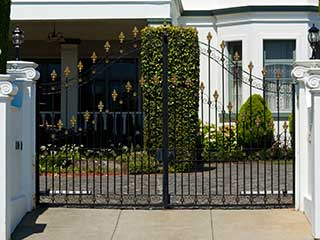 Choosing the Gate for Your Home
Getting a gate installed is one of the best decisions you'll ever make that will fundamentally enhance your security at home. There are a lot of different styles and designs of residential security gates you can choose from. You can choose from the different materials that are commonly used today. Wood is perfect for a quaint and rustic appeal. Wrought iron is great for those who want to convey a more regal aesthetic and steel is just right for those going for the industrial look. Aside from the materials used, you can also choose the way your gate will open. You can have a swing type or a sliding type. Call our company up and we'll provide you with the ideal gate that will fit the style and aesthetics you prefer as well as increase the security of your home.
Benefits of Using Openers
Whichever material or style of opening you choose to get, the fact of the matter is that the door panels of your gate will be heavy and opening or closing them manually will take a lot of time, time that you probably don't have. For your convenience, you can choose to get an opener installed. Call our company if you're interested in getting one. We have a lot of residential gate openers you can choose from. With an opener, you no longer have to waste a lot of time and effort operating your gate before work. All you'll need is a remote.
Restoring Gate Alignment for Proper Functionality
If you notice your gates are not closing as well as they should, then they are most likely a little misaligned. There are a lot of possible causes for this. The most common reason is the failure of hinges. Hinges can come off wooden posts if they're already rotten or in the case of metallic posts, hinges may come off due to the welds giving out. Poor technique might have been used or rust may have eaten around the weld joints. If you notice any of these, call us up. We can help. We'll reinforce the welds to make the hinges stronger. We can also replace your current hinges with stronger replacements for added durability. Restoring hinge functionality is important since not even the best residential gate openers in the world will be able to function properly if the gate itself is loose or broken.
A Residential Gate with Intercom
You can call us up and take a look at our automatic residential gate openers. These are ideal for when you want to fully automate your gate operation. There is one aspect that you can't really automate that much though, and that is guest screening. If you want to make this process more convenient, we suggest you have an intercom system installed. Our intercoms will help you identify who is at your gate and with the accompanying control panel, you'll be able to operate the gate remotely from the safety of your home.
Call now for all your gate installation and repair needs.
Count on our team for:

Doorking Gate Intercoms

Liftmaster Gate Opener

Gate Exit Sensor Installation

Automatic Gate Troubleshooting