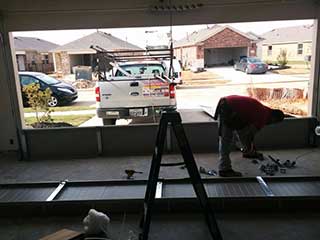 Although gate repair is our company's main focus, we also specialize in other fields. The professional garage door repair services we offer are the best ones around in terms of effectiveness and price. If you ever find yourself in need of assistance, our highly skilled technicians will be more than happy to help.
Motor Unit Repair
Just like with a gate system, automatic garage doors also use electric openers in order to power their movement. This device can experience both mechanical and electrical issues, however, and all the wonderful convenience it adds can quickly dissipate when something goes wrong. Our technicians know exactly how to handle anything from damaged motor gears to misaligned safety sensors and even circuit board issues. We will fix the problematic component or replace it with a new one.
Spring Related Problems
As the hardest working parts of any garage door system, the springs deserve some extra attention. These components require a lot of skill and experience to replace safely, as they can be incredibly dangerous when mishandled, due to the constant strain they are under. Leave it to our professionals to perform the complex and risky task that is broken spring replacement. Why take needless risks? Our experts can safely eliminate the dangers.
Worn Rollers and Bent Tracks
These are the parts that help guide the panels' movement, so it's understandable why they can experience some issues every once in a while. Our team will straighten any dents, make sure the tracks are properly aligned with each other to prevent the door from getting off them, and replace any worn rollers that are no longer able to move smoothly. We can even replace entire track sections if they developed too much rust or became too damaged.
Don't Risk DIY
A garage door system can be very dangerous, so we urge you not to attempt to perform any complex repairs on your own. Our experts at Gate Repair Hurst have the knowledge and the skills necessary to safely fix any problem that may affect this mechanism. Call us today if you need any help.