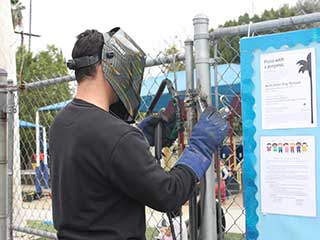 If you are on the lookout for a technician who you can trust to assist you with manual and automatic gate repairs, count on us at Gate Repair Hurst for assistance. Our team is highly trained and experienced, and is more than happy to help you with repairs on gates, openers, as well as their various components. With us, taking care of your home's first line of defense is a cinch, so why not call us today?
Old and damaged Gate Repairs
As strong as they are, gates tend to take damage over time from a number of sources, and this is especially true for old or antique gates which may suffer the onset and spread of rust or rot, or may become bleached and splintered by the sun. When this happens, the structural integrity of your driveway gate becomes compromised, leading to gaps in your home security as well as being unsightly. You can't afford to let an old gate put the safety of your family and property at risk, so when yours starts to show signs of damage or ageing, speak to us about having it restored.
Restoring damaged Electric Gates
A damaged or faulty motor could be the reason why your electric gate is not closing, and when this happens it can cause problems for both the safety and the convenience of your household. If your motor is acting up or has become unresponsive, having your automatic gate repaired or replaced by a technician is the only way to get things up and running again. If your motor has given up on you, or is starting to show signs of trouble, be sure to have it replaced as soon as possible with the help of our technicians.
Alignment and Hinge Repairs
Let us assist you with keeping your driveway gate in optimal working order by ensuring that your hinges are properly supporting your gate while keeping it aligned. When your hinges start to show stress marks such as cracks or warping, have one of our technicians repair them and realign your gate for you. With our gate repair services we can see to every component in your setup and ensure that they are working as they should
Call us now
So, give us a call to have your gate repaired by a trusted professional from Gate Repair Hurst. Speak to one of our consultants for more information on our services, get an estimate on repairs, or simply ask us for advice.
Count on us when it comes to:

Rollup Gates

Eagle Gate Opener

Phone Entry Systems

Swing Gate Adjustment