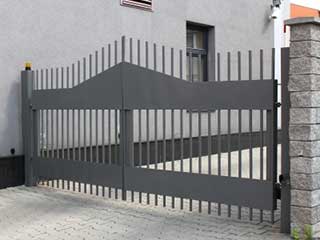 One of the most important parts of any home is the driveway gate, but it's not something most homeowners pay attention to. This is the entrance to your property, and it's what provides the first impression that visitors and guests see. It's also what you'll see every time you get home, and it should always be a welcome sight. Not only this, but your driveway gate is also one of the most important defenses against intruders that you have. Choose a high-quality custom driveway gate and you'll soon wonder how you ever managed without it. Gate Repair Hurst offers free estimates, so why not get in touch today to schedule a time for yours?
Low Prices On New Driveway Gates
It doesn't have to cost a lot of money to invest in a high-quality driveway gate. Our low rates make it easy to find a premium gate for your home. You can customize your new gate easily, too, with plenty of different designs on offer. Choose from materials such as iron, steel, and wood for your new driveway gate. All of these products are available in both sliding and swing gates, too, making it easy to find the perfect driveway gate for any home. We're the driveway gate experts in Hurst, and we're proud to offer our cheap rates throughout the local area. Get in contact today for your free quote.
Cheap Driveway Gate Repairs in/Near Hurst
A driveway gate that can't shut properly is a security hazard. Similarly, if your gate is jammed closed, it makes it really difficult to get into and out of your home. Problems like this are much more than just inconveniences. These need to be taken care of quickly, because they have a severe impact on your quality of life and safety. Our Hurst-based technicians know how to solve driveway gate problems quickly. With our reasonable rates on gate repair, you can be sure it won't cost top dollar. Schedule gate repairs that you can trust whenever you need them by contacting our team today.
Fast Driveway Gate Installation
We work quickly to fit your new entranceway. Thanks to many years of experience installing driveway gates, our technicians can get your new entrance up and running within a very short space of time. This means less disruption to your daily routines, and more time spent enjoying your new custom driveway gate.
Custom Gates For Hurst Driveways – Free Quotes
You don't have to be rich to enjoy all the benefits of a high-quality driveway gate at your Hurst home. No matter whether you want a custom iron sliding gate or a new wooden swing gate. We can provide the perfect entrance system to your home. Speak with our Hurst-based gate specialists today to find out how little this could cost. Need repairs done quickly? We offer same-day repairs to all nearby areas. Call anytime for any related service.