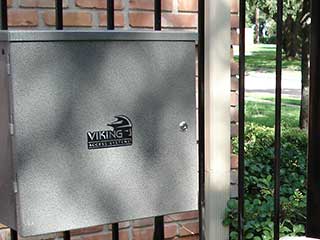 In this day and age, many people are always looking at ways to increase security. Setting up a perimeter around your Hurst property is a great way to start. Setting up a fence around your grounds is one thing, but your property's first line of defense is a good gate. However, to have a completely functional and secure gate, you'll also need a good gate opener. After all, there's not much point in having a gated entrance if you need to get out of your car to get into the safety of your property. No one understands gated security more than Gate Repair Hurst and no one knows gate openers better than our experts. We've got some great gate openers for you to consider so you can add an extra element of security to your property.
Linear Arm Gate Openers
One of the most common types of gate openers is the one that uses a linear arm. A linear arm gate opener consists of an arm that is attached to the gate and a post. The linear arm is connected to the motor which will either open or close your gate, as needed. This is done via a remote control that you can keep in your car as well as having a control panel somewhere in your home. Linear arm gate openers are quite sturdy and as long as they have been properly installed, they will last you a considerable length of time. It's no wonder why many Hurst gates tend to have them as part of the mechanism.
Articulated Arm Gate Openers
Some swing gates are a little difficult to work with. These gates usually consist of a fencing system that has some stone or brickwork with metal bars. If the stone or brickwork is a little more thickset than average, an articulated arm gate opener may be the solution for you. This type of opener is often also referred to as a hinged arm gate opener. It serves as a great solution for swing gates that have a bit of an alignment issue with the columns the gate is attached to. The hinge is attached to the gate's structure and the gate itself and it can contract or extend as needed to give the gate smooth movement. You can install an articulated arm gate opener for single or double gates. Of course, it will need a certain amount of horsepower for heavier frames.
Double Gate Openers
Overly large gates are a good reason to install double gate openers. This allows you to install two separate, smaller gates, instead of one large, difficult to work with gate. Even if you have a smaller entrance, you may simply prefer the appearance of a double-gated entrance. With double gate openers, you can choose to have them installed with swinging or sliding gates.
Gate Opener Repair & Installation Experts Near Hurst
If you don't have a gate opener installed with your gate, or you're in the process of installing a new gate, call our office for help. We'll send one of our professionals to your home or business to offer you a range of gate opener solutions that we're confident you'll love. Plus, we offer same-day repairs for openers of all types at the best prices in Hurst and nearby. Don't delay. Call today.
Give our team a call if you need help with:
Wrought Iron Gates
Gate Remote Program
Aiphone Gate Intercoms
Swing Gate Post Repair